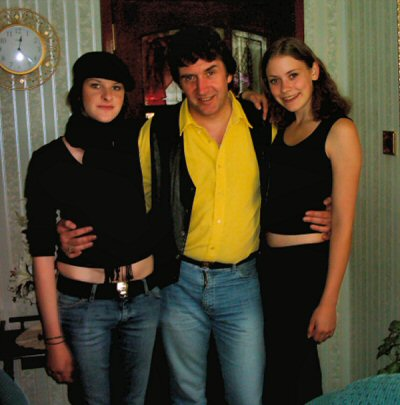 Malcolm Robinson
Investigator / Researcher & Founder of SPI
Malcolm has been interested in the paranormal for as long as he can remember and in 1979 formed SPI. He has appeared in numerous UFO and other paranormal related books and magazines all over the world and has also been a guest on many radio and television programmes.
replica watch supplier
Malcolm Robinson with nieces Jemmpu & Johanna 2004
Address :
Malcolm Robinson
139a Carshalton Road
Sutton Surrey
England, UK
SM1 4LU
Phone :
Mobile: 0794 91 78 83 5
Email :
[email protected]
Notes :
Formed SPI, deals with national investigations & research and lectures world-wide.
Statement:
I've been interested in the strange world of UFOs and the paranormal for as long as I can remember and in 1979 I formed my own research society entitled, Strange Phenomena Investigations, (SPI). Since forming this society, I have moved down to London where I have started up a sister branch to SPI, entitled, Strange Phenomena Investigations England). SPI Scotland is now in the hands of a fellow researcher. The aims of SPI, are basically to collect, research, and publish, accounts relating to most aspects of strange phenomena, and to purposely endeavour to try and come up with some answers to account for what at present eludes us.
Articles by me, have appeared in many of the world's UFO and paranormal magazines. I have assisted many of the UK's National and Regional newspapers in connection with stories concerning ghosts, poltergeists and UFOs. I have also been interviewed by many of the UK's major (and minor) radio stations regarding the above mentioned subjects.
I have travelled extensively throughout the U.K. on research projects, and I have lectured to various clubs and societies throughout Scotland and England, and I am pleased to say that I have represented my country at International UFO conferences.
My television work has seen me appearing on Scottish Television's, 'Scottish Women'! BBC Reporting Scotland News. Scottish Television news (STV), American television's 'Sightings' programme. I have also worked for Japanese television, German television (Twice, ARD and PRO 7). Mexican television. Australian television. Italian television. And I have appeared twice on the Michael Aspel show, 'Strange But True'. I have also appeared on Grampian television, and completed documentaries for BBC Scotland, (Cracking Stories) and the BBC 2 programmes, 'Strange Days' and 'The Right To Differ'. Both Lorraine Kelly and Eammon Holmes also interviewed me live (twice) at the G.M.T.V. Television studios in London in regards to a ghost case that our society had been working on. I have also appeared on the Disney Channel and LWTV's 'Ultimate Questions'. Plus the Chris Moyles Channel 5 show, and also UK Horizons 'Paranormal Files'. These are but some, of the many TV. shows that I have participated in over the years.
My goal in life is to continue researching cases pertaining to the strange world of UFOs and the paranormal, and to hopefully provide some form of answer to account for what at present eludes us.